/

/

Congressman Brady hosts 2016 military academy appointees send-off breakfast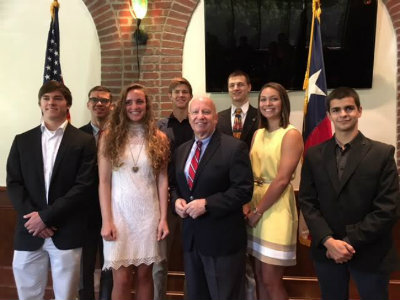 MONTGOMERY COUNTY, Texas - For the 20th consecutive year, those seeking positions of leadership in the profession of securing our nation's ideals and security, were honored with a send-off breakfast before they report to their respective military academies.
Nine from the 8th Congressional District accepted at military service academies.
U.S. Congressman Kevin Brady (R-The Woodlands) hosted the send-off breakfast at the Black Walnut in The Woodlands, assembling the appointees, their parents, the Academy Board which makes the selection process, and a local legend, Captain Patrick Connelly who served as the keynote speaker.
"We've been blessed with remarkable young people who have gone on to serve our country in amazing ways," said Congressman Brady. "This is one of my favorite annual events to do here in our district. I would personally like to congratulate our soon-to-be cadets and midshipmen on their prestigious appointments. We're very excited about where you're going, and we're here to celebrate the achievements of these amazing young men and women, who in the coming years will embark on citing an honorable journey of service to Americans." (View opening address video)
The nine military service appointments from the 8th Congressional District district (in the order introduced in the video):
Jose Antonio Figuera Hernandez, Willis High School - United States Air Force Academy at Colorado Springs
Connor Binney, The Woodlands High School - United States Military Academy at West Point
Travis Dill, CISD Academy of Science & Technology- United States Naval Academy at Annapolis
Madeleine Easter, Montgomery High School - United States Military Academy at West Point
Candace Gordon, Magnolia West High School - United States Naval Academy at Annapolis
Seamus Sullivan, St. Thomas High School - Merchant Marine Academy at Kings Point
Charles Wasaff, The Woodlands College Park High School - United States Military Academy at West Point
The other two cadets who will be attending the United States Air Force Academy at Colorado Springs are:
Vanessa Davila, Rosa de Jesus Cordero High School
Hunter Hayden, Klein Oak High School
The surprise this year was the application to the Merchant Marine Academy from Seamus Sullivan from St. Thomas High. Besides being aptly named, Seamus explained his choice…
"If people knew more about the contributions the Merchant Marines have made during this nation's history, there might be more interest," said Sullivan. "Percentage wise, more Merchant Marines lost their lives during World War II than any other military branch of service."
Congressman Brady expressed his pleasure with this appointment.
"We're really excited about this appointment, It's been a while since someone applied for this academy, and we're really excited about it," said Brady.
The significant volume in imports and exports due to a global economy, and the increase in piracy on the open seas, makes the role of the merchant marines a vital one.
Scoring the equivalent of the Triple Crown, the Easters third daughter also received an appointment to a military academy. Their oldest daughter, Corinne, just graduated from the Air Force Academy, daughter number two, Adrian,will be a junior at the Naval Academ, and daughter number three, Madeleine, completes the trifecta, heading to West Point on June 27. Why West Point, and not follow in the footsteps of one of her older sisters by attending the Air Force or Naval academies?
"I got their perspectives (the sisters) too. What really influenced my point of view, went to the Naval Academy's summer seminar and the West Point's Summer Leadership experience. I liked West Point's overall program better. I got a better feel for it," said Sullivan. "I took into consideration what my two older sisters went through and their experiences, and I talked to a couple of people who are at West Point and got their experience. Just talking to people is why I chose West Point."
Keynote Speaker, Captain Patrick Connelly, attended the United State Military Academy at West Point after graduating from the John Cooper School in The Woodlands. In addition to graduating first in his class from the Academy, and was selected to serve as First Captain...the highest ranking cadet in the Corps of Cadets (an achievement accomplished by only five cadets in the 20th Century, which included General Douglas MacArthur.) Connelly's military decorations include the Bronze Star, the Meritorious Service Medal, and the Army Commendation Medal, in addition to numerous service accomplishment accolades. Many Woodlands residents know Patrick's parents, long-standing Woodlands residents, Edie and Andy Connelly. Connelly offered his perspective and this advice.
"Don't focus on ten years from now. Focus on what's just in front of you. Just try to put one foot in front of the other," said Connelly. "It's not about trying to be the first in the class. When you graduate and get the bars on your shoulder, it won't matter what order you graduated. You'll all be the same rank and starting at the same level." Connelly added…"It's about balance. Learn what not to do as well as what to do. Leaders have to be a multi-disciplinary person."
See abridged version of Captain Patrick Connelly's address to the 2016 cadets and midshipmen in Captain Patrick Connelly addresses 2016 military academy appointees video.
The 8th Congressional District has a long-standing reputation for selecting exceptional candidates utilizing an extremely competitive selection process. An 18-member board representing the seven counties that comprise the district and include: Grimes, Houston, Madison, Montgomery, San Jacinto, Trinity, and Walker.
"With America at war, leadership matters. Strong military leadership is essential. With these incoming cadets and midshipmen, our district has much to be proud of," stated Congressman Brady. "I congratulate these exceptional young men and women on their appointments. They have shown the integrity and character our country seeks, and we are honored by their desire to serve."
Nine applicants exceeds the number most congressional districts send to the academies. Each district gets one appointment per academy, but Montgomery County continues to exceed that number.
"People like Patrick, who have done very well, help future applicants. The academies come to our area for the caliber of young people, but it's getting harder to get the appointments, because they're not taking as many," said Brady.
In order to be offered an appointment to a military service academy, candidates must be unmarried, at least 17 and not yet 23 years of age by July 1, of the year of admission. They must also be a United States citizen and a resident of Congressman Kevin Brady's 8th Congressional District.
See related link for photo gallery:
See related link:
Congressman Brady announces nine Military Service Academy appointments