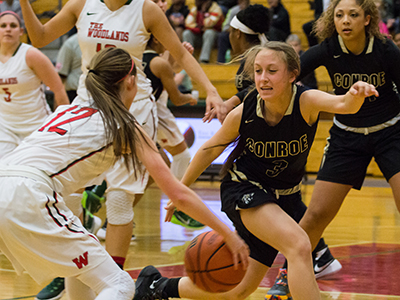 THE WOODLANDS, Texas — Conroe brought an unstoppable defense to their road game against The Woodlands High School girls basketball team and took the victory 42-23.
Watch highlights from the game here.
Conroe head coach Tamisha Houston said that her team's huge defensive game has brought a lot of success to their season.
"I'm sure you hear this all the time that defense wins championships, and if we were the type of team that just focused on scoring, we'd struggle," Houston said. "Wehave to use our speed and our athleticism to our advantage to defend people, and once we frustrate people and they start having a hard time scoring the ball, that works in our favor."
The game got off to a sluggish start with no points on either side until Conroe's Jordan Allen put a shot up for two. Later, a foul on Lady Highlander starter Payton Walker would tie up the low scoring game to 4-4. Jznae Kim ended the quarter with a three point shot for the Tigerettes, bringing them to an 8-5 lead against the Lady Highlanders.
Shots by Walker and Meghan Musso tied the game early in the second quarter, but Conroe's Maya Grant made a quick bucket and took back the lead for the Tigerettes, and another basket and a three point shot put them ahead 15-8. Another couple of free throws for Walker finally put the Lady Highlanders in the double digits, and they ended the half 15-10, Conroe.
Returning to the second half, shots by Tigerettes Grant and Erica Solomon-Powell put a larger gap between the two teams, and despite a huge effort by the Lady Highlanders to shorten the distance, big shots by Conroe's Player of the Game Jordan Allen and Christiana Lewis closed the third quarter with a 32-17 lead. Even with some big shots by the Lady Highlanders in the final quarter, they could not overcome the force Conroe brought to the game. The Tigerettes ended the match-up 42-23.
After pushing big scoring deficits on their opponents in back-to-back games, Houston said she is excited for the direction her team is going.
"It feels good because it means that we're starting to find a way to score late in the season when it's going to matter," Houston said. "That means the girls are getting confidence. I'm glad with the way we're beginning to gel and play as a unit."
The Tigerettes will face Oak Ridge at home Friday, January 29 at 7 p.m., and the Lady Highlanders will be on the road against Atascocita.