BASKETBALL: The Tigerettes make it past the Lady War Eagles 63-57 in close battle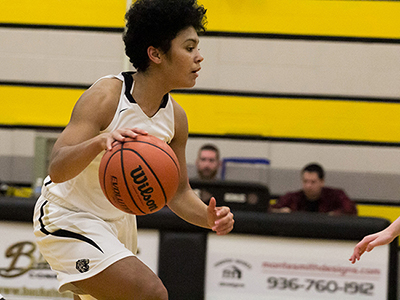 CONROE, Texas — After putting huge score gaps on back-to-back games, the road was looking clear for Conroe's girls basketball team, but a game dominated by fouls and struggled free throws threw them for a spin. The Tigerettes managed to get by with a 63-57 victory against Oak Ridge.
The Lady War Eagles entered the game as a force to be reckoned when Alecia White got a layup within just the first few seconds of the game. After some back and forth shots, the Tigerettes took back the lead with a shot by Conroe's Maya Grant. They finished the quarter with a close 15-13 lead against Oak Ridge.
The second quarter started off on a good note for Conroe as Christiana Lewis put in a three-point shot, followed by some luck at the free throw line for the Tigerettes. Oak Ridge maintained a tight gap and trailed Conroe with a 26-20 score at the end of the half.
Fouls called throughout the third quarter and several missed free throws plagued the Tigerettes. Conroe head coach Tamisha Houston said with all of the fouls being called on the floor, it was difficult for her team to find their groove. While Conroe maintained a 10 point lead at the end of the third, the Lady War Eagles had their opponent hanging on by a thread. Conroe's Victoria Ratcliff stepped up in a big way for the team and helped finish off Oak Ridge with a final score of 63-57.
"The last two games made us think that we were just going to cruise through to victory, but this game showed us that people are going to show up, and they're going to come ready to play us every single night, so you can't take anybody for granted," Houston said. "Oak Ridge had their game plan. They stuck to their game plan, and it actually payed off for them because we were missing free throws. We were able to pull it out, so I think that works in our favor going in to Summer Creek next week on Tuesday."