/

/

Public Servants to benefit from legislation HR 711 proposed by House Ways and Means Committee
Public Servants to benefit from legislation HR 711 proposed by House Ways and Means Committee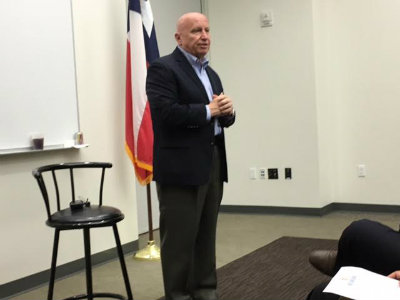 CONROE, Texas - If you work for an employer who does not withhold Social Security taxes from your salary, such as a government agency (federal, state, or local), a nonprofit organization, or an employer in another country, any pension you get from that work may reduce your Social Security benefits. Your Social Security retirement or disability benefits may be reduced based on the Windfall Elimination Provision (WEP) that affects how your retirement or disability benefit is calculated. Educators, law enforcement officers, and firefighters are especially impacted financially by WEP.
The WEP exists because 34 years ago Congress perceived collecting both Social Security and a pension as 'double dipping,' They put the WEP in place to eliminate the "windfall", but ended up hurting those who paid into Social Security working extra jobs or a second career.
For many in these lower-paying public service jobs, second and third jobs are essential and they contribute to Social Security. However, when they reach retirement age, they find they don't receive the full benefit they paid into,
The Equal Treatment of Public Servants Act of 2015, H.R. 711, introduced by Congressman Brady (R-Texas 8th District), Chairman of the House Ways and Means Committee, and Congressman Richard Neal (D-Mass 1st District), will adjust this shortfall by calculating a worker's benefit amount using total lifetime earnings, and adjust for the amount of earnings that came from a job or jobs covered by Social Security.
Read the official bill H.R.711 -- Equal Treatment of Public Servants Act of 2015
In layman's terms, see Congressman Brady's explanation in the video
Congressman Brady spoke to faculty, staff, and employees at Lone Star College System about the bill on Wednesday, April 6. LSC workers are affected by WEP. Last week, he participated in a rally with first responders at Fire Station 84. The Texas State Firefighters Association, Firefighters Pension Board, both the Firefighters and the Police Officers Unions, and the Texas Retired Teachers Association came to show their support.
HR 711 has over 60 House co-sponsors and garnered the support of hundreds of thousands affected by WEP, for the following reasons:
Public servants will be treated with a fair formula in accordance with other American workers.
Guarantees public servants receive the benefits they earned while they paid into Social Security.
Is budget neutral in the short term, improving Social Security's solvency over the long term.
Will provide relief to current retirees already affected by the WEP.
"I'm cautiously optimistic that we can get this passed through the senate, despite it being an election year, " said Congressman Brady. "We're targeting for it to go into effect January 1, 2017."
Brady is grateful for the gaining momentum for this bipartisan bill. He is hopeful for a vote this summer and intends to spend the duration of the year championing its passage in the Senate for the benefit of those who need it. This has become an issue of serious concern as a large segment of the population has started their retirement...the Baby Boomers, the post-World War II generation born between the years 1946 and 1964, who are between 52 and 70 years old as of 2016. Those eligible for Social Security at age 66, started retiring four years ago, many of whom worked in education, law enforcement, and firefighting.
If you paid Social Security tax on 30 years of substantial earnings you are not affected by the Windfall Elimination Provision (WEP), but you probably know someone who is. To show your support of HR 711, contact Congressman Kevin Brady via one of the following methods at... Contact Congressman Kevin Brady.
Forward this link Public Servants to benefit from legislation HR 711 proposed by House Ways and Means Committee to others in the education, law enforcement, and firefighting industries to share information about HR 711, encourage comments, or urge support. Ask them to contact their congressman about it.
"The Equal Treatment of Public Servants Act will make the system more fair for those who have made the greatest sacrifices for our well-being," said Congressman Brady.
See related link about the WEP and how it's calculated Retirement Planner: Windfall Elimination Provision (WEP).