/

/

Montgomery County Food Bank hosts food fair at Grangerland Intermediate Sept 10
Montgomery County Food Bank hosts food fair at Grangerland Intermediate Sept 10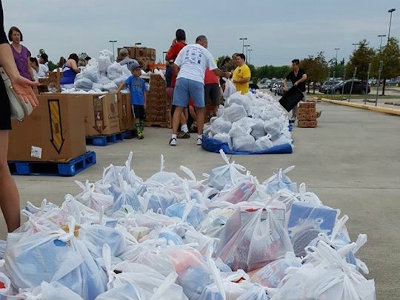 CONROE, Texas – As part of Montgomery County Food Bank's (MCFB) mission to provide nutritious meals to hungry children, adults and senior citizens of Montgomery County, they will host a food fair at Grangerland Intermediate School on Saturday, September 10.
The event, which is open to any member of the community that does not have regular access to nutritional assistance, will take place from 9:30 a.m. – 12 p.m. at 16283 FM 3083 in Conroe.
Like a market on wheels, the MCFB food fair program is a traveling pantry that delivers nutritious food, including fresh produce and non-perishable items, which are provided by the food bank with the generous support of our sponsors. This food fair is anticipated to serve 500 to 550 families with support on a first come, first serve basis.
"Being able to volunteer our time and efforts with the Montgomery County Food Bank to sponsor a food fair is an amazing opportunity to help families in need in our community. No one should have to go hungry and so many families wonder where their next meal is coming from," said Jeannie Crowell, CEO of Cimarron and this food fair's sponsor. "Each food fair has a powerful impact on the community we serve."
Crowell goes on to say, "The food fairs couldn't happen without the generous groups of volunteers. These events bring the community together and local volunteer groups all contribute to their success."
If you are interested in volunteering, please contact Nicole at 936-539-6686 extension 2030. MCFB is also in need of sponsors for future food fairs. If you or your organization are interested in a sponsorship, contact Billy Simpson at 936.539.6686 extension 2031.
For more information, to book a tour or volunteer at the MCFB facility, visit mcfoodbank.org.