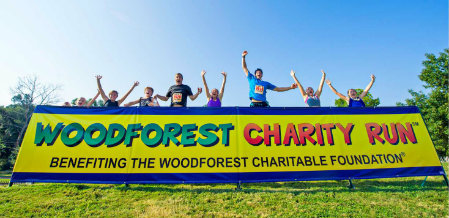 MONTGOMERY COUNTY, Texas -- Woodforest National Bank and the City of Conroe announce the 4th Annual Woodforest Charity Run scheduled for September 28, in downtown Conroe. The Woodforest Charity Run is made up of two certified runs, sanctioned by the USA Track and Field; the Insperity Championship 10K starting at 7:45 a.m., and the Smith Hamilton 5K (naming rights still available) starting at 8:00 a.m., at Heritage Place Park. New in 2013, the Woodforest Charity Run will add the Barkley Shoe Dash for ages 5-7 and 8-12, which begins at 9:00 a.m. Participants, volunteers, and spectators are all invited to enjoy food, music and family friendly activities at the Woodforest Post Race Party.
Online registration can be completed by going to Online Registration
Woodforest Charity Run participant since 2010, Steve Dunlap, stated, "The Woodforest Charity Run is well organized and lots of fun. The after party is awesome. Our whole family looks forward to it every year!"
The Barkley Shoe Dash will be held on Simonton Street in front of Heritage Place Park. Runners will begin the race with one shoe, dash 50 yards to retrieve and put on their other shoe from a pile of competing runners shoes, then dash 50 yards back across the finish line.
Sponsors, to date, include Insperity Championship, Smith Hamilton Equipment, Inc., Panoptic Insurance, Rocha Consulting LLC, MainStreet America, Physicians ER, Luke's Locker, Spectrum, South Texas Maintenance, St. Luke's The Woodlands Hospital, Lonestar Steel, Chesmar Homes, Newmark Homes Houston LLC, T-Shirts Plus, Signs, Etc., Coca Cola, and Walmart.
Net proceeds from the run will benefit The Woodforest Charitable Foundation which supports local charities in the area like the Montgomery County Food Bank, Montgomery County Youth Services, the Friendship Center and the Montgomery County Women's Center to name just a few.
The Woodforest Charitable Foundation is a 501(c)(3) charitable organization founded in 2005 through a generous donation from Woodforest National Bank. The Foundation is committed to making a positive impact on communities that are served by the bank and the lives of their citizens by contributing time, resources, and money to many worthy charitable organizations.
For more information about Woodforest Charitable Foundation, please visit www.woodforestcharitablefoundation.org. For more information about Woodforest National Bank, please visit www.woodforest.com