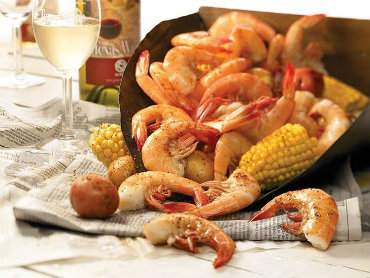 CONROE, Texas - The First Thursday Farmer's Market in Downtown Conroe continues this coming Thursday, August 6 from 4-8pm with an expanded array of new vendors, food selection, and entertainment to enhance the Downtown Conroe area with something for everyone's tastes.
First Thursday Farmer's Market in Downtown Conroe Aug 6.
Bluegrass, fiddles, and the impromptu jam session begins at 4:00 p.m., contributing to the small town atmosphere. Bob Hensley is the lead banjo player that encourages the public to join him with bluegrass music. Hannah and Susannah Hulin, members of the Conroe Symphony Orchestra, accompanied Bob on stage in July, playing the violin and viola. Local musician BJ Thomas is also known to make an appearance.
The Conroe Downtown Area Association (CDAA) is excited to see the growth from 17 vendors to 37 creative craft and food vendors. Local food vendors include the Mad Beekeeper bringing local honey, Lil Emma's Seafood with fresh shrimp, The Bread Lady, Popcart Handmade Ice Pops (popsicles), and Vintage Food with homemade jam cookies. Not to be left out of the new Food Truck Craze, Burgers and More will offer hamburgers, hot dogs, and soft drinks. Local produce was provided by Party Barn Farm, and they sold out of fresh produce in the first hour! They will be bringing watermelon, tomatoes, onions, and more.
"We are going to have to move to the parking lot to expand our vendor space. The momentum is growing and I can't wait to see what happens next month", said Leo Harris owner of Conroe Coffee and Coordinator of the Farmer's Market.
Debuting Thursday at the event will be Llama Rugs, Hiding Place Boutique-Scrabble inspired décor, Sew So Sassy Handbags, and Witt and Wisdom Palette Signs. There is even something for your "furry" friends...K9 Campus Café will sell dog treats!
Additional New Vendors:
Mockingbird baby-hooded towels and teething necklaces for baby
Personal Protection Products-pepper spray, stun guns
Thankful Daisy Designs-decorated wreaths
Bits and Bobs-vintage jewelry
Hippie Crochet-beanies and headwraps
And not to miss is the artist-Dirk Strangely with his pop culture fantasy art paintings. Strangely is known for attending comic book, horror, and sci-fi conventions displaying his artwork in ink and paint. He is also known for his creation of "Graveyard Girl", a novel as well as his dark children's book-"Myrtles Broken Turtle". Strangely also contributed to Jim Henson's Legend of the Dark Crystal.
The First Thursday Concert series will begin at 7:00 p.m., with Dirty River Boys/Zach Walther and the Cronkites performing at Heritage Place Park 500 Metcalf, rain or shine!
Additional vendor booths are available by contacting Leo with Conroe Coffee at 936.266.7632 or rediestarbabe@aol.com Learn more about the Conroe Downtown Area Association by visiting their Facebook page and visiting their website at the links provided.