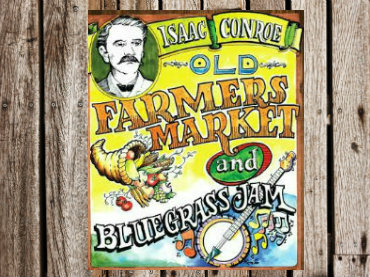 CONROE, Texas - The First Thursday Farmer's Market in Downtown Conroe continues this coming Thursday, January 7, from 4-8:00 p.m., with over 50 vendors, and delicious food truck.
The Conroe Downtown Area Association (CDAA) sponsors the event that is growing in popularity since its inception in June. The CDAA has decided to expand the Farmer's Market to every first Thursday throughout the year.
"The idea was to create something in collaboration with the First Thursday Concert Series to bring awareness to the Downtown Conroe area and the merchants," said Rodney Pool, owner of the Corner Pub and the President of the CDAA. "The CDAA has generated a map of the Downtown Conroe area and a monthly calendar of events posted in key places throughout Conroe to keep both residents and tourists aware of the continued activity taking place in our historic area." Maps and calendars will be available at the Farmers Market on Thursday.
Look for the vendors on the corner of Main and Metcalf in Downtown Conroe. The list of vendors include:
B and K Creations

Bright Lite Dyed
Casia Aromantics
Dabble Designs
Damsel Fly Cards
Dirk Strangely
Ecotopia/Stone
F and M Promotions Embroidery
Figment Ranch/Llama Rugs
Hiding Place Boutique
Hippie Crochet
JFH Woodcrafter
Johnston Designs/Buy Here
Judy
K-9 Cafe
Kathryn (Pottery)
Laura - Jam/Jelly
Lil Emma's seafood
Lynnes Country Lane
Minx Linx
Nashia Indian food
Nyokas Oils
Pain Train
Party Barn
Pop Cart
Rachel
Redneck Fung Shei
Rosehill Junction
Sawdust Mama Birdhouses
Shaka
Shea Hensley
Sweet Tea Children's Clothing
Terry Reardon - Scarves
Texas Gypsy
Thankful Daisy
The Mad Beekeeper
Under Over Mission
Varcar Sporting Goods
Vintage Foods
Walking Canes
Wicked Pig Metal Works
Your Bread Lady
Zipper Purse
Vendors may vary slightly from month to month due to seasonal product offerings.
Food trucks Cousins Maine Lobster food truck Griddlez will be on site to offer their delicious specialties, so come hungry.
There's still room for more vendors. Vendor booths are available for just $10!
Learn more about the Conroe Downtown Area Association and the events by visiting their website at Experience Historic Downtown Today. Also become a 'Friend' of the Experience Downtown Conroe Facebook page (see link provided.)
#ShopTillYouDrop