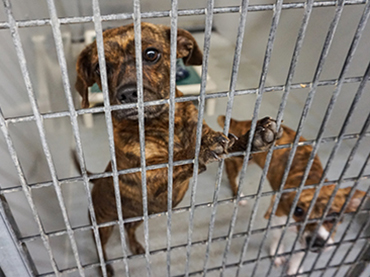 MONTGOMERY COUNTY, Texas - The Montgomery County Animal Shelter is always looking for people willing to adopt, foster, donate, or volunteer some of their time to take good care of these animals. Anything can help these precious animals feel loved and cared for.
The shelter has many animals in desperate need of rescue.
"We have about 900 animals in this shelter" says Suzanne, one of the workers at MCAS. She also states that, "every day in the spring we receive around 70 cats".
By adopting these animals, it will reduce the kill rate and keep them out of harm's way.
The adoption process is not only simple, but satisfying as well. The fee for adopting a dog or cat is only $80 and it includes spray/neuter surgery, vaccinations, de-worming, and microchips. It is a great deal, especially because it is such an awarding experience for the owner as well as the animal they choose to adopt. An adoption application must be properly filled out and brought in to the shelter before one can bring home the pet of their choice. The application includes contact information and other information to help the shelter decide if the applicant will be a great pet owner. As soon as it is filled out and the applicant is verified to adopt their chosen animal, the pet is ready to go home and be taken great care of by their new owner.
There is another option if one is not ready to adopt, which is to foster. A foster parent is very helpful to the pet. The MCAS' pet distribution list gives information on when there is an animal in need of rescue. It also provides some background on the animal to ensure that the foster parent knows as much as possible. The requirements are to give the pet a safe and comfortable temporary home, and to give the animal love and care. The foster parent must also keep an updated picture of the pet online as well as a short bio about the pet. This will enable the animal to get adopted as soon as possible.
Of course, no one is obligated to adopt or foster. Just giving some time to volunteer at the shelter is much appreciated. From walking to grooming and bathing, the opportunities are endless! The age requirement is 16 without supervision, and kids 4-15 are also able to volunteer with parent supervision. There is no time requirement, so volunteers can spend as much or as little time as they prefer. The shelter loves animal-loving people who are willing to give some of their time to be with the pets. To become a volunteer, attend the new volunteers orientation to receive further information about the process.
The shelter also greatly appreciates donations. Items on the wish list include, but are not limited to, towels or blankets, pet food and eating dishes, pet carriers, shampoo or grooming items, toys, and cleaning supplies.
Again, anything is helpful. The shelter is a very welcoming place and loves when people want to extend a helping hand. The animals are very loving and just want to feel cared for. Visit mcaspets.org for more information on ways to help out.