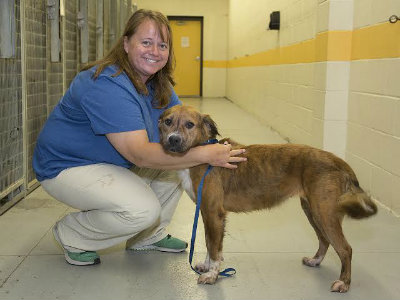 CONROE, Texas - Officials are hoping the latest addition to the staff at the Montgomery County Animal Shelter will help improve conditions for dogs and cats and increase opportunities for the public to get involved in a positive way.
Amy Anderson has been named volunteer coordinator at MCAS, a newly created position to help review existing policies and procedures at the facility and help establish a more coordinated approach to serving the needs of animals housed at the shelter. The announcement was made by shelter director Dr. Todd Hayden.
"Our goal is to create better structure and organization at the shelter so volunteer efforts are more productive," said Anderson. "We also want to improve our communication so groups and individuals know what opportunities exist and also so they can be recognized for their service."
Precinct 4 Commissioner Jim Clark, who has oversight responsibility for MCAS, acknowledged the facility has had challenges in organizing and directing volunteer efforts in the past. By establishing Anderson as the volunteer point person, he hopes the shelter can encourage area residents to become more involved in the shelter.
"We want to encourage people to learn more about the shelter and understand they can take an active role in improving its operation," said Clark. "It's a great activity for individuals, families and even corporate team building."
Anderson, who has a background in education, has worked as a volunteer at the shelter for more than four years and participated in its foster programs. Her responsibilities include improving volunteer orientation and training as well as creating a variety of community outreach programs.
"We want people to be proud of the shelter and to want to take an active role in making it a better place for the animals," said Anderson. "I want to be part of that solution."
For more information on the Montgomery County Animal Shelter, located at 8535 Highway 242 in Conroe, visit www.mcaspets.org.