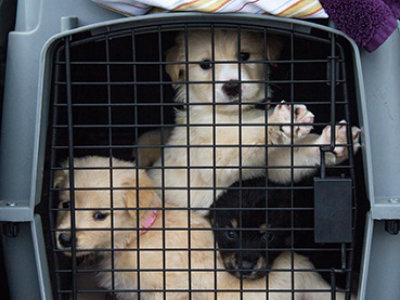 CONROE, Texas - If all goes as expected, the Montgomery County Animal Shelter will have a new leader at the helm by November − if not before.
A nationwide search to identify qualified candidates for the position of director at MCAS has begun, putting an emphasis on experience and the challenges associated with handling a large, county-owned facility.
"We anticipate being able to secure a good pool of candidates within 30-60 days," said Precinct 4 Commissioner Jim Clark who has oversight responsibility for MCAS. "We will move forward when the advisory board finds the right person for the job."
The search process is being led by the MCAS advisory committee, composed, by regulation, of at least one licensed veterinarian, one county official, one person whose duties include the daily operation of an animal shelter and one representative from an animal welfare organization.
Assisting in the process of defining the selection criteria for the new director will be input from local animal welfare organizations and expert advice from Target Zero, a Florida-based organization committed to reducing and eliminating the euthanization of cats and dogs.
"We would love to have an individual with 15 years of hands on experience in a similar operation," said Clark, "but in most cases those individuals are rooted in their communities and their jobs."
During the search process, current director Dr. Todd Hayden will remain in charge of shelter operations, said Clark, and assist with the transition to a new leader when that individual comes on board. It's a luxury of timing Clark did not have when the previous shelter director, Dr. Michael White, left abruptly after nine days on the job.
In a previous interview in the Community Impact newspaper, White, director of the Harris County Veterinary Public Health unit, said the shelter had more issues than he knew about when he took over for a brief time and that he saw the situation as "no-win," and one in which change would be difficult.
"I understand that the new director has started making changes, and I would assume he'd get pushback," White said in the interview. "I felt like there was a lot that needed to change. The volunteers did whatever they wanted, there was conflict between the nonprofits and the rescue groups and employees didn't follow the rules. I really want the shelter to succeed, but it'll be very painful to achieve."
Turmoil is not a new phenomenon at MCAS, acknowledged Clark. While the shelter has a significant number of hardworking staff and volunteers, there are also those who insist on having things their own way and refuse to cooperate or get along. With Dr. White's abrupt departure, MCAS faced a crisis situation.
"Without a licensed veterinarian affiliated with the facility, the shelter was unable to legally acquire medications and pharmaceuticals that are indispensible to operations," said Clark. "We were within one day of having a major problem when Dr. Hayden stepped up and said he would help."
Since taking over responsibility for MCAS, Dr. Hayden has helped lay the groundwork for the new director, Clark said. While a small, but highly vocal group of individuals have been critical of Dr. Hayden, progress has been made, according to Clark.
"Conditions at the shelter were not good," admitted Clark, "but we've taken steps that will help us move forward in a positive direction. There has been a lot of negativity on social media, but not everything you read is true. It's an unfortunate situation."
Under Dr. Hayden, the shelter has instituted new policies and procedures; has appointed new foster, rescue and volunteer coordinators; launched a community cat program and decreased the percentage of pets euthanized at the facility. County officials have also provided increased funding for MCAS, recognizing the need for improved staffing and facilities. A new, low cost spay and neutering facility is planned for East County where more than 50 percent of animals brought to the shelter originate.
Affirming his previous statement, Dr. White, who lives in Conroe, said he is aware of the current challenges at MCAS.
"The shelter isn't going to work well with some volunteer groups out of control and having a combative relationship with the shelter staff," he said. "It's counterproductive to the mission of the animal shelter."
In establishing hiring criteria, the MCAS advisory board has indicated the new director need not be a licensed veterinarian, Clark said. The shelter would benefit from someone with management and organizational experience to deal with a broad range of responsibilities, including community relations, volunteers, fundraising, foster and rescue groups and county government.
He also suggested the shelter might benefit from having three fulltime veterinarians on staff, so the facility could have medical coverage seven days a week. He'd also like to see physical improvements to the entry area to make it more appealing and increased staffing to reduce wait times.
"Conditions at the shelter are far from perfect," said Clark. "The groundwork is in place for a permanent director to come in an build on that effort. We all want a shelter that provides quality care and serves the needs of the community. The decisions I make daily are for the long term health and benefit of the animals and that will continue."
MCAS Priorities at a glance:
1. Focus on shelter director search;
2. Continue to implement best practices and policies consistent with shelter protocols;
3. Review 2017 budget; implement cost savings where possible;
4. Increase staffing levels as soon as 2017 budget approved (Oct. 2016);
5. Implement staff uniforms, name tags (on order);
6. Consider increasing number of members on MCAS advisory board.
#MCAS #OptToAdopt
See related story...
Texas A&M Veterinarian Animal Shelter...hmmm, a solution?