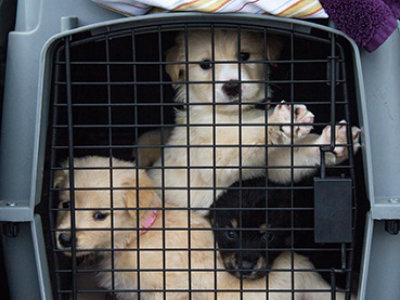 CONROE, Texas - If all goes as expected, the Montgomery County Animal Shelter will have a new leader at the helm by November − if not before − and an action plan for improving conditions for the animals at the facility.
Goals & Objectives
Among the goals established by Precinct 4 Commissioner Jim Clark, who has oversight responsibility for MCAS, is the launch of a full scale, countywide spay and neuter program. Clark also wants to implement best practices and policies consistent with nationally recognized shelter protocols.
A job posting for a new director at MCAS has been posted on the county website and is awaiting approval for posting on other animal related websites, according to Clark. The nationwide search, with recommended criteria provided by many resources in the animal welfare community and Target Zero, emphasizes experience associated with handling a large, county-owned facility.
"We anticipate being able to secure a good pool of candidates within 30-60 days," said Clark. "We will move forward after the human resource department and an advisory committee have made a final decision."
Other goals include implementation of staff uniforms and nametags, increasing the number of members on the MCAS advisory board and increasing staffing levels as soon as the 2017 budget is finalized in October.
"There a lot of issues that need to be addressed," acknowledged Clark. "We are seeking input from a wide range of sources that will be prioritized and developed into an action plan."
Budget & Stats
Among Clark's responsibilities is a fiduciary one, protecting taxpayer's money. The most recent budget for MCAS was $2.2 million for the 21,000 animals taken in during the year, for an average of approximately $104 expended per animal. This compares favorably with other facilities, including Galveston County at $125; Collin County at $171; Fort Bend County at $213 and city of Houston Animal Shelter at $317.
Nationwide statistics from the Humane Society indicate the average cost for shelter services is $8 per person, per year. Based on Montgomery County's current population, that would run to an annual budget of $4.4 million, but county officials have set the new budget for MCAS at $3.4 million.
"I think $2.2 million might be a reachable operational budget once we have put an aggressive spay and neuter program in place and coordinated our efforts with local volunteer, foster and rescue groups," said Clark. "But we need to do a better job of reducing our intake numbers. Once we do that, I'm confident costs will come down. Our recently approved Community Cat program, designed to reduce the number of feral cats throughout the county is an example we need to be doing more of."
Teamwork & Community Support
The success of MCAS lies in developing a partnership with volunteer, foster and rescue groups who can help find permanent homes for shelter animals. The shelter has recently hired new volunteer and foster coordinators in an effort to better serve both animals and the public.
"Our goal is to move forward in a positive way, working with groups and individuals in a position to help the dogs and cats brought into the shelter," said Clark. "It's clear MCAS has faced significant challenges, but with the help of county government, volunteers and support groups, we can significantly improve the shelter and its ability to serve the community."
Moving forward, Clark has full confidence that MCAS is finally headed in the right direction and that corrective measures will have a positive impact on the shelter and the animals. His focus is specific:
1. Focus on shelter director search, to identify and hire the most qualified candidate;
2. Continue to implement best practices and policies consistent with shelter protocols;
3. Review 2017 budget; implement cost savings where possible;
4. Increase staffing levels as soon as 2017 budget approved (Oct. 2016);
5. Implement staff uniforms, name tags (on order);
6. Consider increasing number of members on MCAS advisory board.
The Montgomery County Animal Shelter is locate at 8535 S.H. 242, south of Conroe (77385).
Hours of operation are:
Tuesday - Friday: 8:30am - 5:00pm
Saturday & Sunday: 10:00am - 4:00pm
For more information visit the website at Montgomery County Animal Shelter