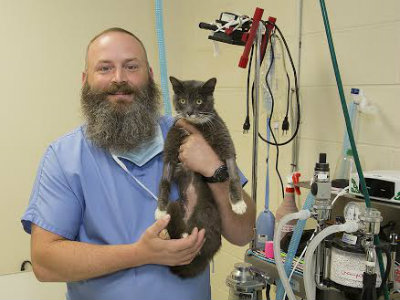 MONTGOMERY COUNTY, TX − Community support and improving conditions at the Montgomery County Animal Shelter have earned the facility recognition from a respected animal rights welfare organization.
Target Zero, a national charitable initiative dedicated to productively decreasing shelter intake and achieving a "no kill" shelter status, has offered a Fellowship to MCAS based on changes in policy and improvements at the shelter under the direction of director Dr. Todd Hayden and passage by Commissioners Court of the Community Cat Diversion Program − a progressive effort to reduce the local homeless and feral cat population, needless euthanasia of cats in the shelter that also impacts dogs in a positive way.
"This is a great honor and opportunity for the shelter," said Dr. Hayden. "Affiliation with Target Zero gives us the opportunity to network with successful shelters, learn about new technology and successful programs to better serve the local animal population and greater access to pursue grants, donations and other forms of financial and organizational support."
In September of 2015, Target Zero completed a shelter assessment of MCAS and strongly recommended an emergency action plan, including temporarily closing of the shelter based on the treatment of animals and an unwillingness to implement best practices at the facility, according to Dr. Sara Pizano, Target Zero program director.
"At that time, conditions for both dogs and cats were inhumane," said Dr. Pizano. "We have seen improvement under the leadership of Dr. Hayden and are encouraged conditions will continue to improve."
As a Target Zero Fellow, MCAS will provide monthly statistics to the National Federation of Humane Societies, adopt standard best practice strategies, properly train staff and volunteers and work toward achieving and maintaining a 90 percent live release of animals brought to the shelter.
There is no fee or charge to MCAS to be named a Target Zero Fellow, though shelter operations and progress is monitored monthly and reviewed annually to assure the organization is progressing in a positive direction.
"We appreciate the recognition and support of Target Zero," said Precinct 4 Commissioner Jim Clark, who has oversight responsibility for MCAS. "We have a long way to go, but we are making progress by establishing policies and procedures that will improve conditions at the shelter. Change is difficult, but we're headed in the right direction."
For more information on Target Zero, visit www.target-zero.org. For more information on the Montgomery County Animal Shelter, located at 8535 Highway 242 in Conroe, visit www.mcaspets.org.
Photo Caption: Dr. Todd Hayden, director of the Montgomery County Animal Shelter, credits new shelter policies and adoption of the Community Cat Diversion Program for recognition of the shelter by Target Zero, a national animal support organization.
See related link: The dog days of summer at the Montgomery County Animal Shelter
#OptToAdopt