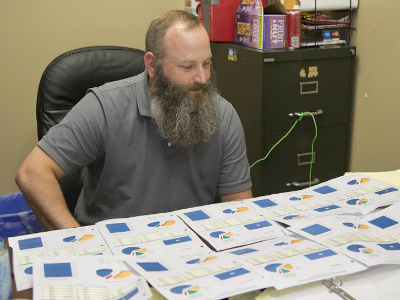 CONROE, Texas - The good news for dogs and cats taken to the Montgomery County Animal Shelter is their chances for a live release are getting better − and officials say the future should be even brighter.
The number of animals taken into MCAS is going way down and the percentage of animals being put down because of disease, injury or other factors is plummeting as well. Shelter statistics for the past five years show a definite reduction in both animal intake and rate of euthanasia.
"We're seeing definite improvements in the volume of animals being brought to the shelter and the community's ability to transition them to productive lives beyond the shelter," said MCAS director Dr. Todd Hayden. "That's not to say we don't face a number of significant challenges − we do − but there's some good news here."
In June of 2012, the shelter took in 2,625 animals, of which nearly half were euthanized. During the same period this year, MCAS took in 1,732 animals, of which around 23 percent were put down. In July of 2012, the shelter accepted 2,422 dogs and cats, of which 43 percent were euthanized, compared to 1,539 animals taken in this year, with around 13 percent being put down.
"It's important to note these are not anomalies," said Dr. Hayden, "there is a clear trend of reduction in the past five years."
Dr. Hayden credits the improvement to support of programs that benefit the animal community of Montgomery County − including spay and neuter programs introduced by Texas Litter Control three years ago and "trap & return" programs that have helped reduce animal birthrates.
"The recently approved 'Community Cat' program, in which feral cats are spayed or neutered and returned to their area where they live but do not breed, will help in the future," said Dr. Hayden.
Precinct 4 County Commissioner Jim Clark, who has oversight responsibility for MCAS, had praise for volunteers as well as area foster and rescue organizations who play a significant role in finding homes for a wide range of cats and dogs brought to the shelter.
"Volunteers with these groups play a huge role in the shelter's ability to function efficiently and for the benefit of the animals," said Clark. "We owe them a huge debt of gratitude."
And with increased funding recently approved by county officials, Clark and Dr. Hayden believe the future may be even better. Dr. Hayden wants to see more low cost spay and neuter programs at MCAS that will help reduce expenses currently borne by foster and rescue groups.
"We're also looking to create a low cost spay and neuter facility in Splendora in East County," said Dr. Hayden. "Well over half the animals coming into the shelter come from East County, so we want to be more proactive in that area to make sure low cost services are available."
For more information on the Montgomery County Animal Shelter, located at 8535 Highway 242 in Conroe, visit www.mcaspets.org