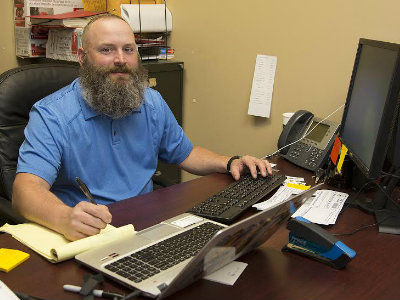 CONROE, TX − Look for plenty of changes for the better at the Montgomery County Animal Shelter as Dr. Todd Hayden takes over as director of the sanctuary serving nearly 20,000 animals each year.
Hayden, a licensed veterinarian, Marine Corps veteran and businessman was appointed as director of MCAS March 15 by Precinct 4 Commissioner Jim Clark who has oversight responsibility for the facility.
"Dr. Hayden has a great deal of experience and a very pragmatic approach to the needs of both the shelter and the community," said Clark. "We are fortunate to have him take on the job of organizing the shelter to better serve the people and animals of Montgomery County."
Hayden and his wife Corey are both licensed veterans, graduating from Oklahoma State University in 2005 and 2006 respectively. Hayden previously served as a contract veterinarian at MCAS beginning in 2013.
He takes over responsibility for the shelter from Dr. Mike White who held the position for only nine days before leaving to become head of the Harris County Animal Shelter.
"There are a lot of people and organizations working with and for the shelter who are truly interested in helping animals," said Hayden. "But there have been a number of challenges involving organizing and directing those efforts in a unified manner. Having the best of intentions does not guarantee positive results."
Hayden is well aware of past problems, but is focusing on creating systems, policies and procedures that will better serve all concerned.
"We are working with Commissioners Court to help improve the shelter," said Hayden. "We will be announcing a number of changes in the near future to enhance efficiency and make the shelter a better place for the animals as well as staff and volunteers.
MCAS is located at 8535 Hwy. 242 in Conroe. Hours are Tuesday through Friday, 10 a.m. to 5 p.m. and Saturday and Sunday from 10 a.m. to 4 p.m. For information, visit www.mcaspets.org.