Animal Shelter back in the hands of Montgomery County, $25 adoption special this weekend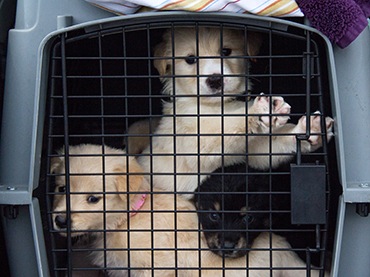 MONTGOMERY COUNTY, Texas - On November 3, it was announced by Commissioner Jim Clark, Montgomery County Precinct 4, that the a href="http://www.conroetoday.com/cdps/cditem.cfm?nid=7217"target="_blank">Montgomery County Animal Shelter will be operated by the county as of November 7. It was agreed upon on November 2 that the current Management Contract be terminated. Coinciding with the transition, the Shelter will be offering a $25 adoption special for ALL dogs and cats at the shelter this weekend only, November 7-8. Read what Commissioner Jim Clark had to say in the official press release below:
November 3, 2015
Dear Concerned Citizens and Animal Advocates:
We would like to provide you with an update on the status of the Animal Shelter operations. On Monday, November 2, 2015, the Commissioners' Court was provided with an agreement in principal for the mutual termination of the Management Contract, effective Saturday, November 7, 2015.
While this accomplishes a lot of goals, it does created a type of "FIRE DRILL." There have been almost continual meetings to ensure we have the necessary veterinary staff, kennel staff and critical supplies to care for the 800 plus animals. Tomorrow, we will be interviewing current staff, former staff, and other qualified candidates to assemble a transition team for the immediate transition.
As you know, veterinary care is critical to a healthy shelter, and to be able to even purchase core vaccines for the animals. We have spoken with an existing veterinarian employee and are seeking others to help us ensure the health of each animal, as well as its sterilization prior to or after adoption.
We are seeking help to empty the Shelter, so that we can thoroughly clean it. To help accomplish this, we will ask for help in promoting $25 adoptions on all dogs and cats this weekend ONLY, with no refunds only exchanges. We will be unable to accept credit cards until Wednesday, November 11, 2015. Payment will need to be made by cash or check. We will need help from our Rescue Partners as well to achieve this goal.
We want to schedule a meeting with representatives form the local rescue community including Operation Pets Alive, Smart Rescue, Texas Animal Society and Lone Star Animal Welfare League, for Thursday, time permitting: the locations and exact time are to be determined.
How can you help? We respectfully ask for your patience while we take over the momentous task in 4 short days We would love to have you there to help in promoting the Empty the Shelter Event for this weekend to your friends and followers on social media. If your schedule permits, we would love to have you there to help these pets find their next forever home.
Just confirming, Montgomery County, Texas will be operating the Shelter effective November 7, 2015, and the previous contract has been terminated.
Equally important, while we have many challenges ahead, the staff has a hard job without the additional challenges, these last few months have added. If you have an opportunity to compliment or encourage each other and staff members, please do so.
Sincerely,
Jim Clark
Commissioner Precinct 4
For more information, please view the Montgomery County Animal Shelter website.