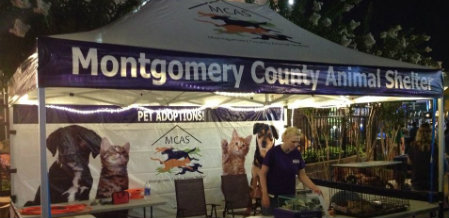 MONTGOMERY COUNTY, Texas - The Montgomery County Animal Shelter reported that they had their first triple-digit intake day of kitten and puppy season on April 23. One hundred pets were dropped off at the shelter located at 8535 SH 242, south of Conroe (77385).
MCAS needs 'fur-ever' homes, donations, and donated items for garage sale to offset growing expenses.
Less than half of the animals that were taken in, were adopted out. The low attrition rate is creating an extremely constrained condition.
"It's very sad, especially when you see that 100 came in, and only 41 went out. That is just not good enough," reported the shelter staff. "We are basically full of puppies and kittens. It's safe to say that there is no room at the inn. All pets coming in are at extreme risk because we have no where for them to go."
Of the animals taken in, 70 percent are adoptable. All animals are evaluated on a case by case basis, based on health and behavior, not by breed. The shelter is putting out an appeal to foster or adopt those that will make suitable pets. In most cases, it's a match made in heaven, and the pet finds a 'fur-ever' home. The shelter is asking the community to 'Opt to Adopt,' and definitely to spay or neuter pets you already have, in order to reverse the pet overpopulation.
To cover the overwhelming shelter expenses of food, vet care, and equipment, the shelter is having a garage sale on their parking lot this Saturday, May 3, from 9 a.m. to 1 p.m. The community can drop off unwanted household goods at the shelter Thursday and Friday, and shop the sale on Saturday. All proceeds will go to this non-profit 501(c)3 organization's essential needs. While on site, drop off any towels, mats, old blankets, and pet food you can spare.
Shelter hours are as follows:
Monday through Friday - 8 a.m. to 5 p.m., Adoptions begin at 10 a.m.
Saturday and Sunday - 10 a.m. to 4 p.m.
Click on the link provided to view all 100 pets recently taken in, and others awaiting adoption. A special appeal is being made to rescue dog and cat organizations to foster some of the animals and help find 'fur-ever' homes for them, especially for the 'bottle-babies': puppies and kittens who aren't weaned.
"The bottle babies are especially at risk because their immune systems are not fully developed," states the shelter.
Rescue organizations and the public can call MCAS for more information at 936-442-7738. Monetary donations can be made by accessing the link provided. Take pride in helping this essential organization and these deserving pets. The shelter is just asking for a little 'Pet Pride.'